FrontRow Juno
All-in-one Classroom Audio

The towering standard in classroom sound quality, FrontRow Juno sets up in minutes — and yet evenly fills your classroom with the kind of exciting, multi-layered stereo sound you'd expect from a much larger installed system. What's more, Juno's intelligent digital platform connects you to exciting tools like automated lesson capture, voice-command control of displays, and easy intercom.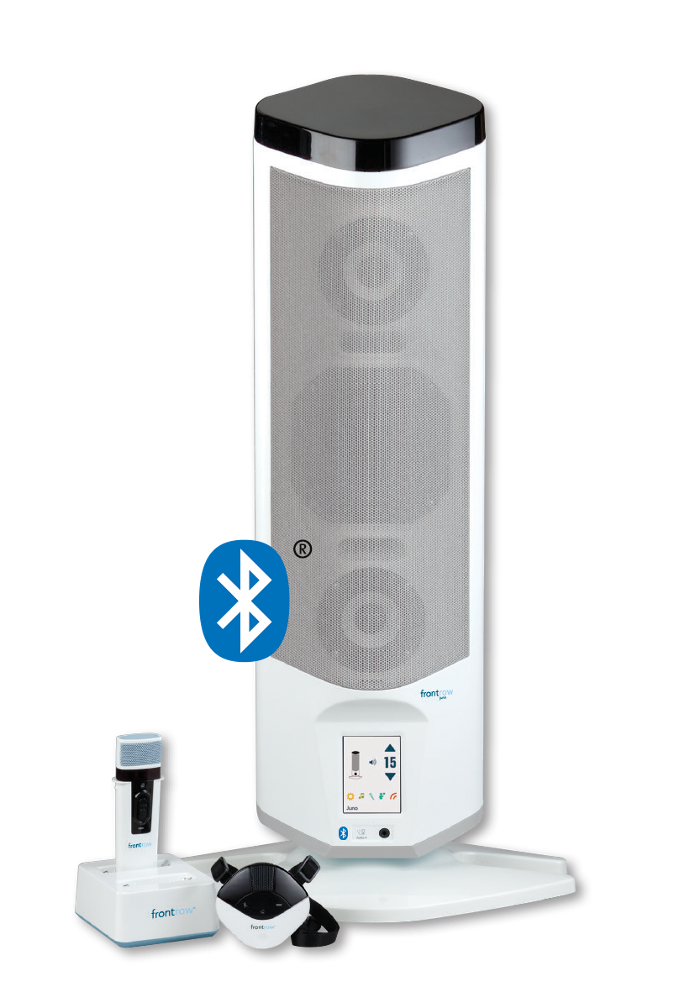 Simply Great Sound

Getting great sound coverage in the classroom has never been easier. Learning depends on listening and classrooms are inherently challenging environments for students to hear and for teachers to be heard. Improve your student's comprehension and learning outcomes with Juno.

Boosts listening, participation, confidence, and comprehension


Educators at Woodbury Elementary in Irvine, California chose FrontRow's all-in-one classroom audio, Juno, to support their instructional goals. The necklace-style pendant teacher microphone makes instruction understandable throughout the room, while student microphones encourage participation and confidence. What's more, Woodbury is taking advantage of Juno's automated lesson capture feature to extend learning beyond the classroom.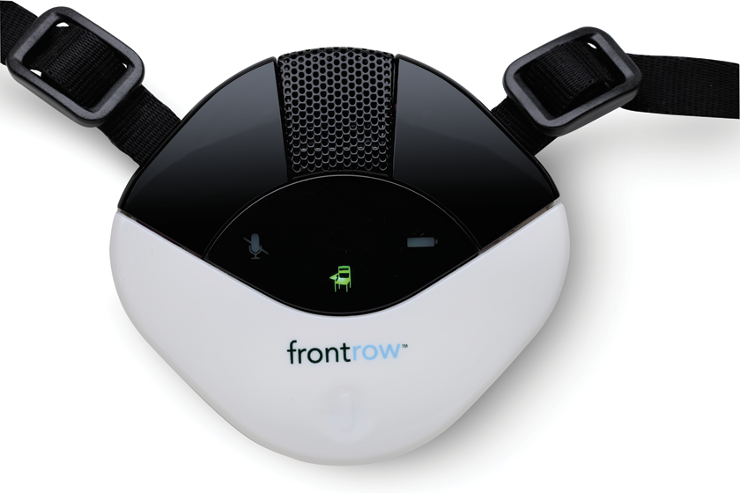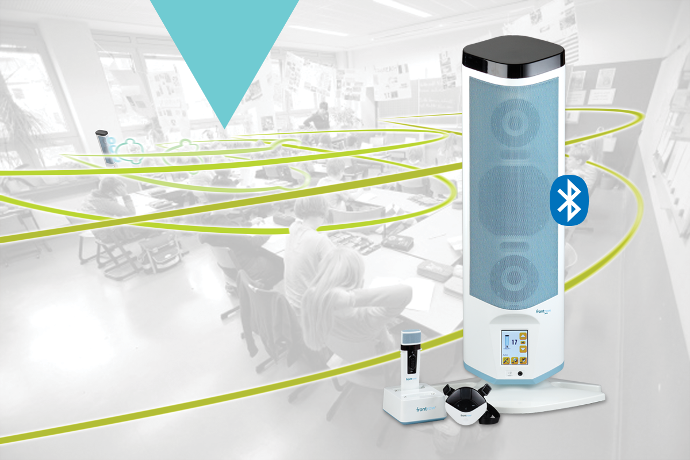 Fills your room with sound

Juno's room-filling SonicSuffusion™ technology is intelligent. First, its digital crossover network keeps the two mid-range drivers and the bass module in phase and reproduces your audio at peak efficiency. Then, we exploit the physics of constructive wave propagation to rescue the sound energy that other brands waste and push it forward and to the sides in a 180° horizontal layer. This arc of sound spreads more evenly across the room, reduces unwanted echo, and sounds up to 25% greater in volume over distance than conventional or flat-panel speakers.

Juno with Bluetooth® further maximizes student engagement by enabling wireless audio streaming of instructional content. Bluetooth is an important addition to FrontRow's audio reinforcement technology because media audio is frequently part of instructional content and needs to be heard just as clearly as the teacher and student voices.

Clearer sound

Juno is built with advanced FrontRow technology to provide much clearer whole-class sound than other brands. The Adapto engine digitally scans your audio 375 times per second to wipe out harsh squealing feedback before you and your students can hear it — that means you can get the volume you need and still move freely throughout the classroom. Our patented OptiVoice feature actually helps students understand more by emphasizing those speech frequencies that contribute most to meaning. And the handy PrioriTeach feature automatically lowers the volume of media and student mics when the teacher speaks.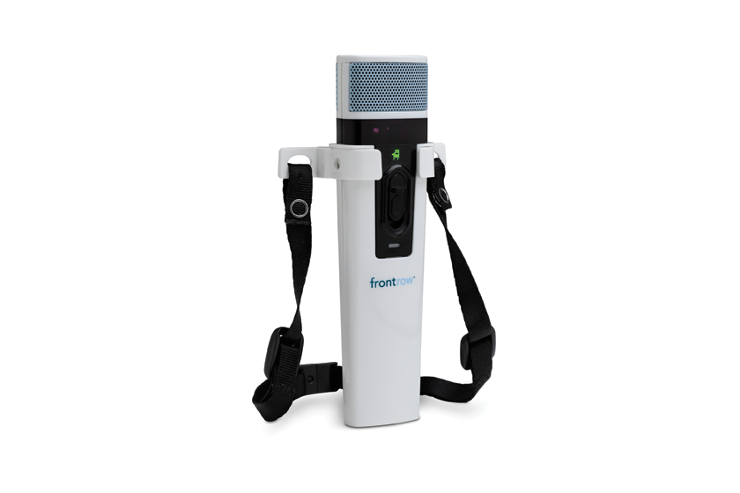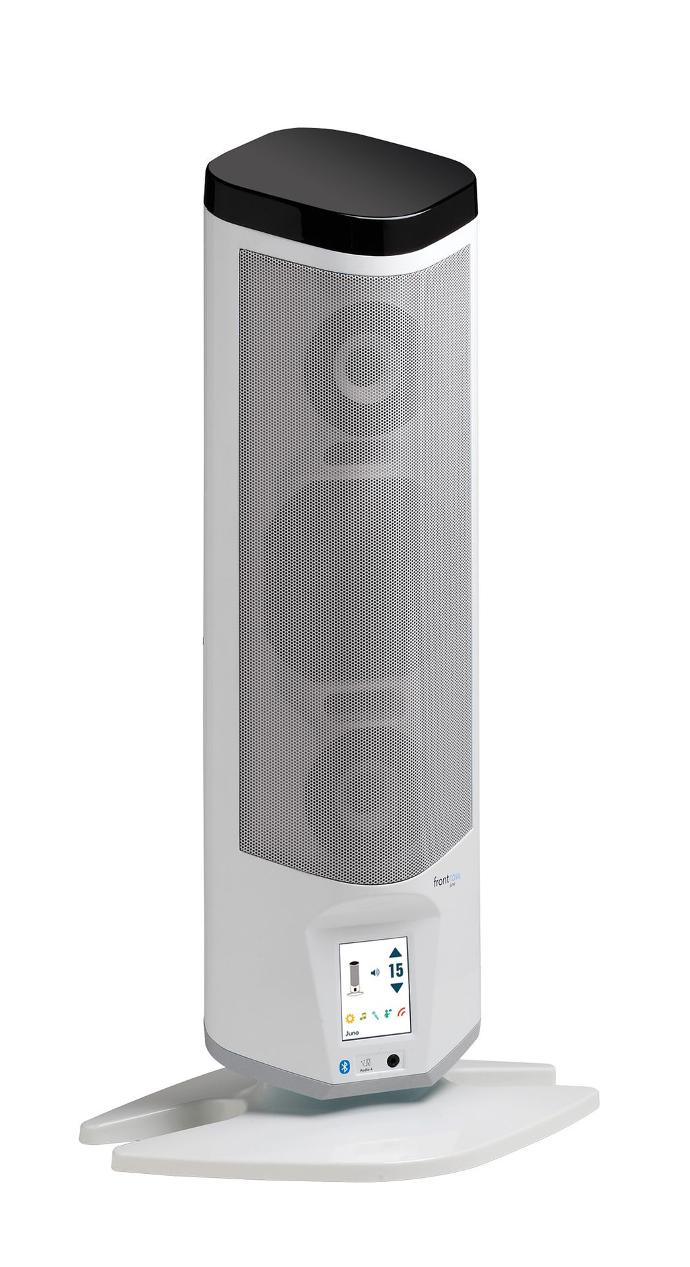 Saves work
Juno is as much a time- and labor-saving platform as it is a communication tool. Using simple voice commands, you can turn on displays and switch inputs, adjust volume, or start recording a video of your lessons for homework support and flipping. When used as part of the FrontRow Conductor campus-wide communication solution, you can use your Juno wireless teacher microphone to call the front office from wherever you are in the room.

All-in-one ease — with the
advantage of a connected system
Plugging Juno into your network turns it into Juno Connect — an AV system connecting you to your other teaching technology and colleagues. Control displays with your voice. Call the front office. Allow alerting from the mic as part of your school's Emergency Preparedness Plan. Whether you take advantage of this connectivity today or years from now, Juno is your gateway to this communication power.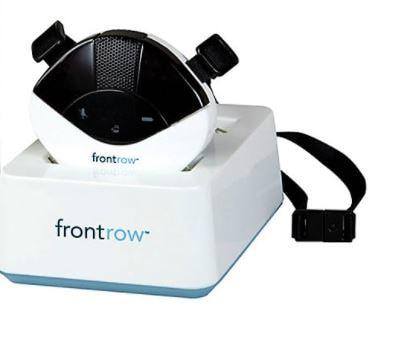 Classroom Audio
Allows all students to hear their teacher clearly whether in class or learning remote.

Lesson Capture
Easily capture video recordings of live lessons including what's on the display and automatically names and uploads the video to the school LMS or website.

Campus Communication
When connected to Conductor™, bells, direct paging, intercom calls, alerts, and emergency communication are routed through your classroom speakers. Teachers can respond hands free or even initiate an emergency procedure by pressing the panic button on their teacher microphone.

Summary:
Juno® is the world's most advanced classroom communication tool, combining the convenience of portable audio products with the sound quality of installed systems — and far exceeding the capabilities of any ordinary sound device. A teacher's voice is a powerful educational tool, now more than ever. The Juno® digital sound system listens as attentively as students do, so teachers can control principal functions simply by talking to it. Want more volume? Just say so!

Fantastic digital stereo sound from the installation-free Juno® tower — great for both voice and media amplification. The three-speaker 2.1-line array (two mid-range HF drivers and one woofer) provides full, rich stereo sound, with volume level easily controllable via voice command. For voice amplification, Juno lets you use up to five microphones simultaneously through the optional Channel Expansion Module. Meanwhile, the next-generation Adapto™ digital engine actively scans audio 375 times per second to suppress feedback squeal before it starts. Juno features our patented OptiVoice™ technology to emphasize critical speech sounds, so kids comprehend even more.

Part no. 1000-00057 package Includes:
Juno Tower Receiver and power supply/cord
Pendant Microphone and rechargeable battery
USB (charging) cable
OptiVoice™ voice clarity feature
PrioriTeach™
5-YearWarranty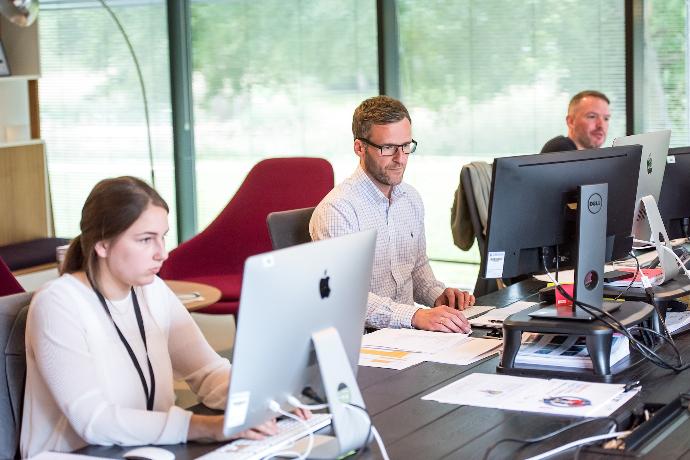 Want more information?

Click below for FrontRow's comprehensive Resource Center web site for videos, articles, case studies, manuals and guides, design resources, and white papers: