AV Control

AV Control

FrontRow simplifies managing instructional technology. For instructors, it consolidates all controls in a single interface. For technologists, it provides a universal remote management interface for hundreds of devices, regardless of model.

Manage technology

Manage your technology with one tool

For over 10 years, FrontRow's AV control products have made teaching in today's classrooms easier while providing significant value. Our products were designed specifically for schools, ensuring all teachers can comfortably rely on FrontRow to easily control their classroom AV technology. This school-specific focus means a stream-lined design, which results in per-classroom cost savings for school districts.

The reality often is that a typical school's classrooms employ various audio and visual technology: interactive displays, classroom audio systems, projectors, document cameras, you name it. All with their own remote controls & volume adjustments. A control system can be custom built by a local integrator – at significant cost. A simpler and far more cost-effective solution is to use a single FrontRow AV control product that controls all devices in the room.

AV Control Features

AV Control features

Based on a school's individual needs, FrontRow will work with Pivotal Communications to provide a single package, created just with FrontRow products under a single warranty to provide:

- The exact functionality needed - nothing more/nothing less
- A guarantee to work exactly as expected
- A system that is assembled in the US, tested in the US and shipped from the US ready for installation
- A single interface that is designed with the teacher in mind: easy to use, reliable and durable

Incredible Value

Incredible Value

FrontRow's AV control systems are designed specifically for K-12 schools. Our custom designs are tailored to specific classroom technology needs at a fraction of the cost of much larger corporate boardroom or higher education focused manufacturers.

Simple Control

Simply Reliable Control

After finalizing a specific design requirement, FrontRow builds and tests every system in our California facility. Rest assured, we have years of experience controlling every brand of projector or interactive display. Our controllers are simple and intuitive for teachers to use daily. For IT staff, we provide easy-to-use management software to control all classrooms remotely.

True AV Solution

True AV Classroom solution

Whether ordering a custom-built solution or one of our pre-built configurations, you have the option of easily incorporating teacher and student voice amplification – the true "audio" component to any multi-media classroom AV solution. Our unique AV solutions can double as a school's in-room PA & intercom speaker solution, saving the additional costs of managing a separate, redundant system.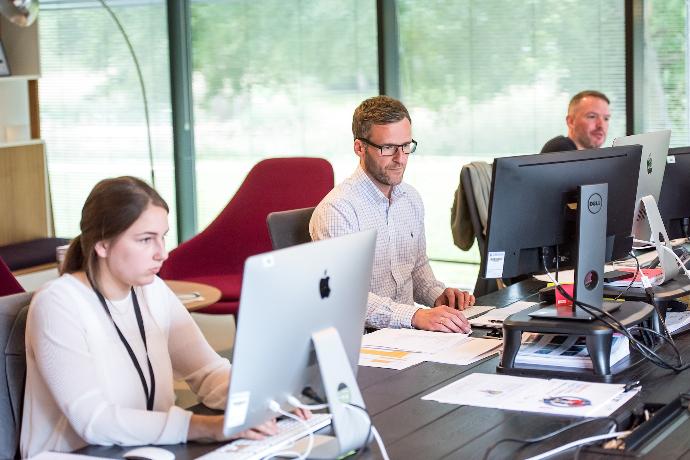 Want more information?

Click below for FrontRow's comprehensive Resource Center web site for videos, articles, case studies, manuals and guides, design resources, and white papers: